Most people agree that artificial intelligence (AI) should be regulated. That includes politicians, talking heads, bureaucrats, businesspeople, engineers, scientists and tech bros. Even MSPs.* With that thought in mind, a couple weeks ago leaders from around the world, including the U.S., took steps to make AI safer. They hope. Maybe you saw it in the news. Here are two of the source documents: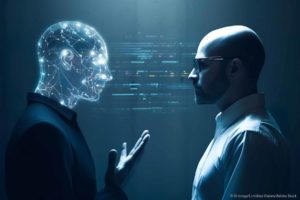 On Oct. 30, the Biden administration released the Executive Order on the Safe, Secure, and Trustworthy Development and Use of Artificial Intelligence.
On Nov. 1, leaders from 28 countries met in London for the Artificial Intelligence Safety Summit. UK Prime Minister Rishi Sunak hosted the summit at Bletchley Park, where Alan Turing famously helped crack the enigma code. (Dignitaries from the U.S. included Vice President Kamala Harris and tech guru Elon Musk.) The summit produced The Bletchley Declaration.
Haven't had enough? Last summer the European Union released a draft of its own proposed rules, The EU AI Act. (See also the ironically created illustration.)
We're flooded every day with AI news, opinions, warnings and hype. It can be exhausting. Some of us think that slowing down and reading an original document can be enlightening. Just be sure to heed the warning label.
Caution: Source documents also are created by human beings. (We think). Like news stories, they can contain opinions, judgments and errors. Plan accordingly.
*MSPs "managed service providers" like All Net Connect are always reminding clients that artificial intelligence engines make fraud, theft and cybercrime easier. We've all got a stake in AI regulation.